Well friends, we've reached the end of the line, at least for now (never say never), here at attwiw. I want to thank you all for reading what I've had to write for the last few years and to say I hope you'll join me at my new home at Substack and subscribe today!
MIDDLE EAST
SYRIA
Pro-government and rebel forces in northwestern Syria spent Sunday shelling one another's towns, reportedly killing at least 15 people across the area. Pro-government attacks killed seven people in a rebel-held part of Aleppo province and three people in Idlib province, while rebel shelling killed five people in the government-held part of Hama province. Exchanges like this are becoming alarmingly more frequent around the rebel-controlled region in northwestern Syria, where an estimated three million people (many displaced from other parts of the country) are now living.
In eastern Syria, refugees from the Syrian Democratic Forces battle against ISIS in Baghouz have overwhelmed the SDF's displaced persons camp at al-Hawl. Many of the displaced suffered considerably both from the fighting and during the long trek from Baghouz to al-Hawl in the north, much of it during dicey winter weather. The camp is now filled well beyond capacity and its medical facilities in particular are just not up to the workload.
YEMEN
An explosion at a warehouse in Sanaa on Sunday killed at least 13 people, seven of them children attending school nearby, according to local officials. It's unclear at this point what caused the explosion but a pro-government airstrike would seem to be a reasonable guess.
Elsewhere, Saudi media says the pro-government coalition on Sunday intercepted a Houthi-fired drone heading toward the Saudi city of Asir.
TURKEY
Its attempt to overturn the results of Istanbul's mayoral election through a partial recount having apparently failed, Turkey's ruling Justice and Development Party will reportedly seek a full recount instead. AKP lost Istanbul's mayoralty for the first time in the party's history in the city's March 31 local election, with Republican People's Party candidate Ekrem İmamoğlu coming out on top. But after the partial recount his margin of victory stands at slightly under 18,000 votes, which for a city of Istanbul's size is razor thin. Losing the mayor's race, even in a big city, doesn't sound like a huge deal, and to be fair it's not an imminent threat to AKP's power. But the Istanbul mayoralty is probably more analogous to a big state governorship than to a big city mayoralty here in the US, so it does matter.
IRAQ
Iraqi Prime Minister Adil Abdul-Mahdi paid a visit to Iran this weekend, and among other fun times Iranian Supreme Leader Ayatollah Ali Khamenei lectured him to "make sure that the Americans withdraw their troops from Iraq as soon as possible because expelling them has become difficult whenever they have had a long military presence in a country." I know, show me the lie. But on the other hand it's not really any of Khamenei's business, though admittedly he's got considerable influence over Iraqi politics by virtue of the strength of the pro-Iran Fatah Alliance. Abdul-Mahdi was in Tehran partly to talk about expanding Iraq's trade with Iran in spite of US sanctions, and that expansion could at some point force him to choose between Iran and the US though Washington would be really dumb to let it get to that point.
ISRAEL-PALESTINE
For his last pitch to Israeli voters ahead of Tuesday's election, Israeli Prime Minister Benjamin Netanyahu on Saturday pulled the mask completely off:
Netanyahu pledged that he would not dismantle a single Jewish settlement and that Israel would retain control of the territory west of the Jordan River — the West Bank. More than 600,000 Israelis now live on war-won lands, two-thirds in the West Bank.

The interviewer asked why he hadn't annexed some of the larger settlements during his current term. "The question you are asking is an interesting question, whether we will move to the next stage and the answer is yes," he said, adding that the next term in office would be fateful. "We will move to the next stage, the imposing of Israeli sovereignty."

"I will impose sovereignty, but I will not distinguish between settlement blocs and isolated settlements," he said. "From my perspective, any point of settlement is Israeli, and we have responsibility, as the Israeli government. I will not uproot anyone, and I will not transfer sovereignty to the Palestinians."
I know this is campaign bluster, but it's refreshing when Netanyahu talks like this. Everybody's beloved two-state solution has been dead for at least 20 years at this point, but it remains basically forbidden to talk about its death in international circles. This kind of rhetoric from the PM of Israel makes it impossible not to talk about it, because if this is the official Israeli government position than a Palestinian state is a physical impossibility. After the election Netanyahu will quiet down and we'll all pretend he never said this stuff, but eventually we will have to reckon with the fact that the only two options now are one multi-ethnic state or one apartheid state, and the Israeli government—whether Netanyahu wins reelection or not—has already chosen apartheid.
EGYPT
Gunmen attacked a group of Egyptian police officers in Cairo on Sunday, killing one officer and their driver. At this point it's not clear who was responsible.
SAUDI ARABIA
A group of four people on Sunday attacked a Saudi security checkpoint along a highway that leads out of the country into Bahrain and Kuwait. Saudi forces reportedly killed two of them and arrested the others. According to Saudi officials they were attempting to escape the kingdom, but it's unclear why. Three of the attackers were apparently known to Saudi authorities, which given that this happened in the kingdom's Eastern province means they were probably Shiʿa militants.
IRAN
Word that the Trump administration is about to declare the Islamic Revolutionary Guard Corps a terrorist organization has produced a lot of mostly bluster from the Iranian government. A large majority of Iranian parliamentarians signed on to a statement promising to take "reciprocal action" to retaliate for any such move, which is noteworthy only insofar as it could be the start of something much bigger (I'm getting to that), while Foreign Minister Mohammad Javad Zarif blamed Israel for trying to "drag" the US "into a quagmire," as though the US doesn't have any agency here.
Iran isn't going to declare war on the United States or even do anything that might provoke one, but declaring the IRGC a terrorist group is still a pretty risky move. The one Iranian threat that actually carries some weight came from IRGC commander Mohammad Ali Jafari, who obliquely threatened the safety of US forces in Iraq. He doesn't mean the IRGC is going to attack US forces itself. What he means is that Iran-aligned Popular Mobilization militias, which still handle much of Iraq's national security as the country continues to build up its formal military, may simply stop protecting US facilities and soldiers from, say, ISIS.
Designating the IRGC in this way also opens up a Pandora's Box whereby it becomes reasonable to declare formal state institutions to be terrorist organizations, which is a line no other country has crossed. But they probably will now, and if Iran returns the favor by slapping the terrorist label on the US military, or the CIA, it's highly unlikely they'll be the last ones to do so. That could complicate things for Empire USA around the world.
ASIA
AFGHANISTAN
A double bombing in the city of Jalalabad on Saturday killed at least three people and wounded 20 more. No group claimed responsibility for the attack and both the Taliban and ISIS are active in that part of the country.
In what may be a major breakthrough in terms of peace talks with the Taliban, the Afghan government on Sunday announced the formation of a "council of senior political leaders"—some currently in government and others formerly in government—who will appoint a delegation to head to Qatar for talks with Taliban negotiators. The Taliban has refused to speak directly with President Ashraf Ghani's government, which it does not recognize as legitimate, leading to some calls for Ghani to dissolve his government in favor of an interim arrangement to handle negotiations. This plan would seem to be a compromise between doing that and doing nothing—assuming the Taliban agrees to meet with the new delegation. The council got a thumb's up from lead US negotiator Zalmay Khalilzad, and since Khalilzad has been talking with the Taliban he presumably has some inkling that they'll be amenable to this arrangement.
PAKISTAN
Pakistani Foreign Minister Shah Mahmood Qureshi said on Sunday that Islamabad has information that India is planning another attack on Pakistani sometime between April 16 and 20. Such an attack, which would have some obvious political overtones given that India's multi-week election will be ongoing at that point, would be incredibly irresponsible to say the least. But if the Pakistanis don't have confirmed evidence of a planned attack, then it's Qureshi's comments that are irresponsible. They could be taken as a green light by pro-Pakistani extremist groups to undertake what they would consider to be preemptive attacks against India.
MALDIVES
The Maldives held its parliamentary election on Saturday, and it looks like President Ibrahim Mohamed Solih's Maldivian Democratic Party is heading for a landslide victory. The latest count has the MDP winning in 60 of the country's 87 legislative districts. The result is not great news for China—Solih of course ousted his pro-China predecessor, Abdulla Yameen, last year, and the MDP mirrors his skepticism about China's role in the Maldives.
OCEANIA
AUSTRALIA
At this point it probably doesn't come as a great surprise that yet more Australian polling shows the Labor Party with a comfortable lead on the Liberal-National Coalition government with a federal election beginning next month. Ipsos has Labor up 53-47 in head to head polling while the weekly Newspoll has Labor up 52-48. Voters really don't like Labor Party leader Bill Shorten, but that doesn't seem to be hindering Labor's chances of winning the election.
AFRICA
SUDAN
Thousands of Sudanese protesters engaged in a two-day sit-in over the weekend outside of President Omar al-Bashir's residence in Khartoum, despite having been lovingly welcomed to Bashir's house by tear gas from Sudanese police. The demonstrators of course called for Bashir to go, their protest movement perhaps emboldened by the recent success of similar anti-government protests in Algeria. Security forces killed at least one person in protests on Saturday, though protest organizers are citing a death toll of five. Amid the demonstrations, Sudan suffered a complete nationwide power blackout on Sunday. The cause is unknown at this point but presumably this isn't going to improve anyone's opinion about Bashir.
LIBYA
With Libyan Prime Minister Fayez al-Sarraj promising to defend Tripoli, Khalifa Haftar's "Libyan National Army" continued its assault on the country's capital over the weekend. Unconfirmed reports say "dozens" of people have been killed in the fighting, but the Libyan health ministry at this point says the figure is 11, with 23 more wounded. Haftar's talk of avoiding civilian casualties became itself a casualty of the conflict, as the LNA conducted at least one airstrike on southern Tripoli on Sunday. There's no word of casualties from that strike, but if the LNA is conducting airstrikes over a heavily populated urban area then they're clearly not that worried about killing civilians.
With a conference on setting up a national election scheduled to happen in one week, this attack on Tripoli is threatening to undo whatever tentative moves Libya has made toward stability. It's also threatened thousands of displaced persons—some refugees from other parts of Libya, some migrants from other parts of Africa trying to get to Europe—who have been existing on the outskirts of the capital and are now caught up in the fighting. The international community has been mostly calling on Haftar to knock it off, obviously to no avail. The US announced on Sunday that it's withdrawing the small counterterrorism and security force it had stationed in Libya, and several other countries have made similar moves.
TUNISIA
Tunisian President Béji Caïd Essebsi, who will be approaching his 93rd birthday when Tunisia holds its presidential election in November, indicated on Saturday that he does not want to run for another term in office. Note that he didn't say he won't run, just that he doesn't want to run. Aside from the fact that he's well into normal retirement years, Essebsi may be hoping to avoid the turmoil currently ongoing in neighboring Algeria, coincidentally brought on by the possibility that a very aged president might seek another term in office. If he does depart the scene it will open a major vacuum—Essebsi is easily Tunisia's dominant political figure.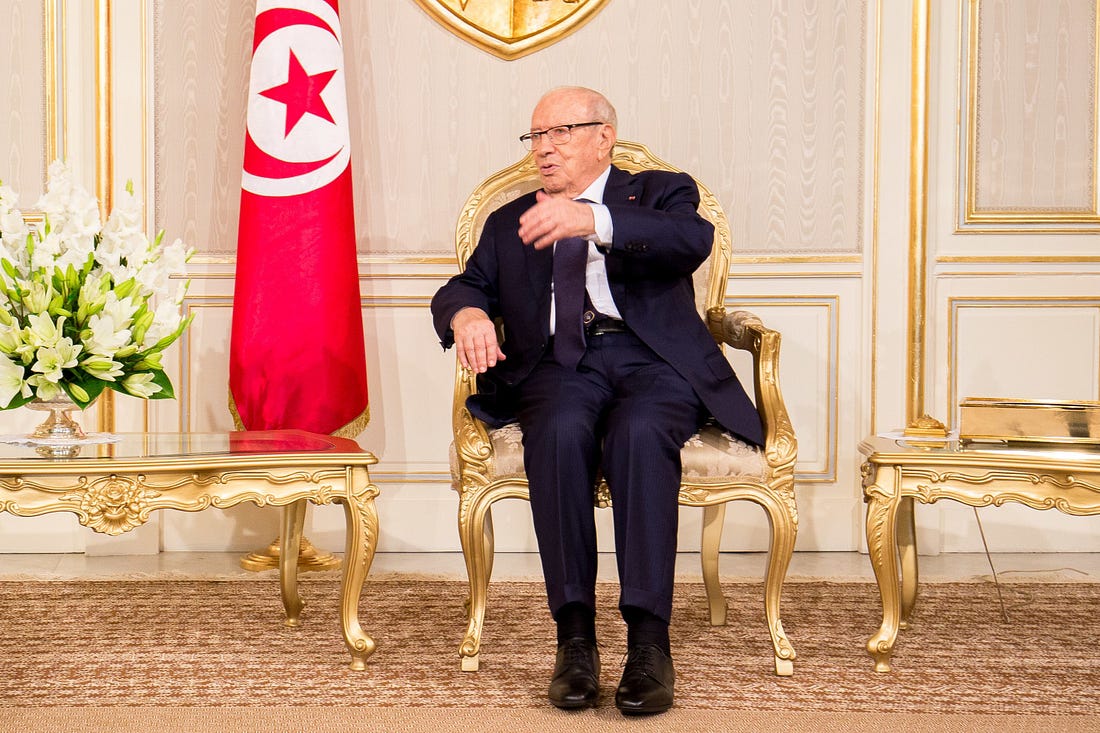 Béji Caïd Essebsi
ALGERIA
Speaking of Algeria, its parliament will meet on Tuesday to confirm Abdelaziz Bouteflika's resignation and elect an interim president to shepherd the country through the next 90 days until a presidential election. Technically this should be a formality—the constitution says that the speaker of the upper house of parliament, who is Abdelkader Bensalah, should become interim president. But protesters don't seem too thrilled about the possibility of Bensalah taking over, since he's very much of the Algerian establishment and that's not a very popular thing to be right now. So it's possible that, in an effort to maybe calm things down a bit, some other arrangement will be made.
NIGERIA
The Nigerian government has suspended mining operations in the state of Zamfara, in the country's northwest, due to rising problems with banditry. A lot of the mining that goes on in the mineral-rich state is off the books and run by smugglers, which makes the industry a prime target for the bandits that increasingly roam around northwestern Nigeria. Nigerian security forces are already struggling to cope with Boko Haram, ISIS in West Africa, and rampant inter-communal violence, so needless to say they're pretty overtaxed these days.
SOUTH AFRICA
The South African government, which withdrew its ambassador to Israel last year over the killing of Palestinian protesters in Gaza, declared earlier this week that it will be downgrading its embassy in Tel Aviv to a "liaison office." That means it will have no diplomatic or economic responsibilities and will only handle consular services. Consequently the ambassador won't be returning.
EUROPE
ESTONIA
Estonian Prime Minister Jüri Ratas has put together a coalition including his Centre Party along with the right-wing Fatherland Party and the far-right EKRE party that will control 56 seats in Estonia's 101 seat parliament. That means that, barring something unforeseen, Ratas will be remaining PM even though the Centre Party finished second in last month's election. Reform Party leader Kaja Kallas, whose party "won" the election and who therefore has first crack at forming a government, plans to cobble together a majority by targeting individual members of the Centre and Fatherland parties who are unhappy that Ratas went back on his promise not to bring the toxically far-right EKRE into the government, but that's a long shot at best.
POLAND
Ahead of elections later this year, Poland's ruling Law and Justice Party (PiS) has apparently branched out from demonizing migrants, which just isn't getting the same traction it once did, to also demonizing LGBT+ people. It's the typical culture war, turn out the base bullshit that's becoming increasingly part of European far-right discourse (homophobia appeals to many of the same Christian conservatives as Islamophobia), and it's also an effective trap for the country's opposition alliance, the "European Coalition," which can't win without some religious voters but can't reject gay rights without depressing its urban liberal base.
The coalition is countering by pointing at the catastrophe unfolding in Britain and insisting that PiS is going to try to take Poland out of the European Union. PiS is a "euroskeptic" party but it's never outright suggested leaving the EU, so this is a bit of a stretch. But it could point the way toward a campaign tactic that parties in other countries could use against their own euroskeptic opponents.
SPAIN
A new poll ahead of this month's parliamentary election has Spain's Socialist Party at 31.1 percent support, good for between 137 and 139 seats. Which is nice, but not the 176 seats the party would need for an outright majority. It would probably give Prime Minister Pedro Sánchez the inside track at forming a majority coalition, though. The country's three right-wing parties—the People's Party, Ciudadanos, and Vox—together only get to at most about 158 seats, and it's unlikely they'd be able to find any other parties willing to form a coalition with the far-right Vox.
AMERICAS
BRAZIL
Journalist Catherine Osborn writes that Jair Bolsonaro's recent trip to Israeli may have been an attempt to reenergize his Christian conservative base. But if so, his waffling on moving the Brazilian embassy to Jerusalem—he initially seemed ready to make the move and then backed down over concerns that it would affect Brazil's commerce with Arab countries—seems to have undone whatever benefit he was hoping to gain. Meanwhile, Osborn says, Bolsonaro may be losing Christian voters for some very non-religious reasons:
Another problem is that as much as Bolsonaro continues to invoke his Christian base with statements like "I will govern with the guidance of God"—and for all his claims to be defending Brazil's "Judeo-Christian tradition"—Bolsonaro's Christian supporters have not leapt to defend his foreign-policy choices. His own claims aside, many evangelical voters were lukewarm supporters to begin with and didn't vote for him only because of his faith but because of his pledges to fix the economy and improve the country's security, according to Ana Carolina Evangelista, also of the Institute of Religious Studies.

Now, three months into his tenure, Brazilian economic forecasts have worsened, and staggering levels of urban violence have continued. Despite Bolsonaro's pledges to clean up politics, moreover, scandals have dogged his family. The proportion of Brazilians who give the government positive marks has dropped 15 percentage points from January to March, according to the polling organization Ibope.

Similarly, support among evangelicals has dropped by 14 percentage points. Winning them back with a flashy trip to Israel was a long shot. On Wednesday night, the altar at a large evangelical church in Rio's working-class neighborhood of Inhaúma was decked with a menorah. But many churchgoers said their opinion of Bolsonaro was based not on his policy toward Israel but on more everyday concerns.
VENEZUELA
A reported "tens of thousands" of protesters demonstrated across Venezuela on Saturday demanding Nicolás Maduro's ouster. Opposition leader Juan Guaidó had been promising that Saturday's protests would be the first in a "definitive" round of demonstrations to get rid of Maduro. Certainly Venezuela's ongoing struggles with electricity, clean water, and other basic utilities haven't won Maduro many fans, but it's still hard to see him going unless the Venezuelan military were to turn on him.
UNITED STATES
Finally, LobeLog's John Feffer looks at Donald Trump's increasingly overt (and increasingly creepy) embrace of religion as part of his political appeal:
Trump a representative of God? During the 2016 presidential campaign, evangelical Christians voted in large numbers for Trump not because of his religious convictions but despite his lack of them. They viewed Trump as an imperfect vehicle for God's will, which was presumably expressing itself about the composition of the Supreme Court, government funding for abortion, and the eroding wall between church and state.

Give us a virtuous president, the evangelicals trumpeted in true Augustinian fashion, but not yet. In the meantime, they would overlook the Republican candidate's biblical illiteracy ("Two Corinthians"!) on top of his very public indiscretions with women, money, and gambling.

But in the two years since inauguration, Trump hasn't just golfed. Even if he hasn't been attending church regularly, he has invoked God more frequently. He has assiduously courted the evangelical vote by hammering away at abortion and supporting Bible literacy classes in public schools. He has signed bibles for the faithful. He now soundsmuch more like Elmer Gantry (on Sunday) rather than just acting like him (during the rest of the week).

Oh, but Trump has much greater aspirations in the religious realm. In the last two years, the president has achieved a kind of apotheosis, an elevation to divine status, and this transformation has important foreign policy implications.