MIDDLE EAST
SYRIA
An explosion in Raqqa injured several people and may have killed at least two on Wednesday, but there have been conflicting reports on what caused the explosion and how many casualties ensued. The Syrian Observatory for Human Rights says that ISIS suicide bombers attacked a Syrian Democratic Forces office in the city. The SDF, after initially going along with that report, later claimed that the cause was actually a landmine, left over from when ISIS controlled the city. The Raqqa Being Slaughtered Silently activist group also said that a landmine was to blame.
TURKEY
Turkish election officials have begun a recount in the narrowly-decided Istanbul mayor's race, where CHP candidate Ekrem İmamoğlu won by less than 30,000 votes. This raises the very real possibility of electoral shenanigans in the recount, by a Justice and Development Party that would very much like to hold on to the Istanbul mayoralty, all things considered. Turkey's electoral bodies have been pretty well taken over by AKP over the past 15 years or so, and their neutrality is very much in question. If the recount fails, the Turkish government may try another tactic to limit the fallout from their losses by limiting the ability of big city mayors to exercise their traditional patronage networks:
Turkish Foreign Minister Mevlüt Çavuşoğlu, in Washington for a NATO 70th anniversary summit on Thursday, spent his Wednesday trying to convince the US government and the rest of NATO that it's really no big deal that Turkey is buying a Russian air defense system. Çavuşoğlu insists that Turkey needs the S-400 system, I guess to thwart potential attacks from the world renowned Kurdish Air Force, and that there's no way Ankara will have a last second change of heart and cancel the deal. That last part is true, but it's because Turkey wants closer ties with Russia, not because of the weapons system itself.
NATO members are concerned because the S-400 cannot be integrated into the rest of the alliance's military systems, and the US is concerned that if it goes ahead with selling the F-35 to Turkey as planned, Russian technicians will be able to get a firsthand look at the aircraft. So Çavuşoğlu has proposed forming "a technical working group to make sure that this system will not be a threat" to either NATO or US interests. I suspect that's not going to be enough to satisfy Washington.
IRAQ
Saudi Arabia is reportedly giving Iraq $1 billion to build a "sports city," whatever that means. This seems like an odd priority at a time when many of Iraq's current city cities are still mostly in rubble, but I guess money is money.
According to the New Arab, the US is dropping leaflets on northern Iraq offering $25 million for information on the whereabouts of Abu Bakr al-Baghdadi. I'm sure that will work out great.
ISRAEL-PALESTINE
An Israeli settler or possibly two settlers shot and killed a Palestinian man outside of the West Bank city of Nablus on Wednesday. The shooter claimed the Palestinian had attempted to attack him and his daughter, who were in their car at the time, with a knife. But Palestinian officials later suggested he may have just been trying to cross the street and say they're demanding the incident be investigated.
It seems clear now that the days of Israeli-Palestinian violence are nearing an end, because in addition to real estate genius Jared Kushner the Trump administration has added another titan to its Israel-Palestine team: Alan Dershowitz. Yep, peace is definitely in the air now.
EGYPT
Abdel Fattah el-Sisi's totalitarianism apparently even extends to the realm of Egyptian soap operas:
Every year during the holy month of Ramadan, Egyptians crowd around their televisions to gorge on big-budget mini-series starring the country's top actors, including weepy melodramas, police procedurals and sweeping historical epics. The best are exported across the Middle East.

But the crop of shows currently in production for Ramadan are being subjected to suffocating controls. Mr. el-Sisi's officials are dictating scripts and capping wages, directors and actors say. A military-linked production company has taken charge of some of the biggest shows.

Filmmakers have been told their stories should follow approved themes, like praising the army and the police, or vilifying the banned Muslim Brotherhood. Those who don't play by the rules don't get on air.
I think we have a photo of Sisi in the writer's room going through the new script requirements: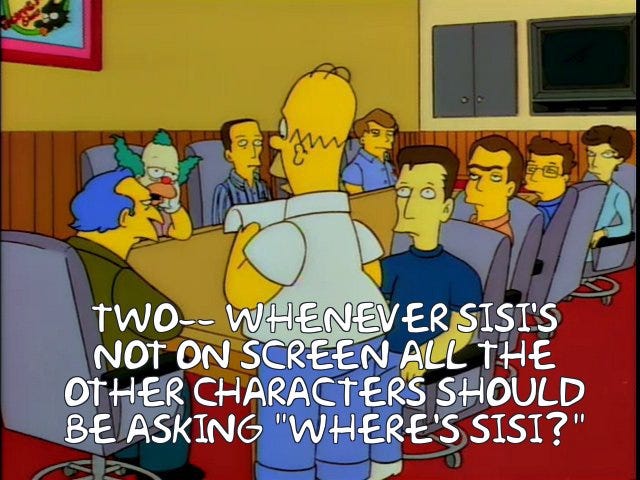 UNITED ARAB EMIRATES
At LobeLog, Giorgio Cafiero writes that events in Algeria (see below) are making big shots in some other Arab countries, like the UAE and Saudi Arabia, extremely nervous. The 2011 Arab Spring movement has mostly fizzled, but it could roar back to life if anti-government protests there and in Sudan relight the movement's spark, which wouldn't be good for either Abu Dhabi or Riyadh. There's also the risk of an unfriendly, maybe even Muslim Brotherhood-ish opposition coming to power in Algiers, which really wouldn't be good for them. The Saudis helped support Sisi's military government in overthrowing Egypt's Muslim Brotherhood government in 2013, but they may not have the financial wherewithal for a repeat performance.
SAUDI ARABIA
It's possible that the Trump administration has not been coordinating its nuclear outreach to the Saudis with the Nuclear Regulatory Commission. This is not really appropriate from a statutory perspective and doesn't do much to allay fears that the administration is prepared to bypass Congress in order to funnel sensitive nuclear technology to the Saudis without appropriate safeguards to prevent the Saudis from weaponizing it.
ASIA
PHILIPPINES
A bombing outside a restaurant in the southern Philippine town of Isulan injured at least 18 people on Wednesday. The cause at this point is unknown. The restaurant has apparently been the target of an extortion scheme so that's one possibility, but given that we're talking about the southern Philippines Islamist militants can't be ruled out.
AFRICA
LIBYA
So it looks like Libya may be close to cracking up again, which is exciting. Warlord Khalifa Haftar's "Libyan National Army" on Wednesday began moving west, which just so happens to be in the direction of Tripoli and therefore Libya's internationally-recognized government, with which Haftar doesn't really get along. By the end of the day the LNA was reportedly engaged in a "skirmish" with a militia allied with the government, in a town south of the capital. Haftar has been threatening a march on Tripoli for some time now but few analysts have thought it was anything more than a threat. This advance could still be part of the bluff—the LNA is probably overtaxed at the moment and there's some reason to think it might not be able to pull off a full-scale attack on Tripoli. But this is still farther than I think most observers expected things to get, and it's a huge setback for efforts to bring Haftar and the Tripoli government into alignment on plans—hopes, really—to hold a national election in Libya later this year.
ALGERIA
Whoever is acting on behalf of former Algerian President Abdelaziz Bouteflika these days sent an open letter to the "Algerian people" on Wednesday asking "forgiveness for any failing." Bouteflika resigned on Tuesday in the face of public protests after roughly 20 years in office, the past five or so as an invalid stroke victim. Algeria's Constitutional Council accepted that resignation on Wednesday, elevating the speaker of the upper house of Algeria's parliament, Abdelkader Bensalah, to the presidency on a 90 day interim basis.
After that Algeria will need to hold a new election, which means the country's ruling clique has 90 days to put aside its factional disputes and settle on a candidate with whom everybody can live. Then they'll need to hope that's enough to appease the protesters, though it probably won't be. The protest movement is demanding more comprehensive change to Algeria's closed political system and isn't planning to stop now that they've ousted Bouteflika. Looming over everything, as it always has, is the Algerian military, which doesn't involve itself in politics on a day-to-day basis but does see itself as Algeria's final political arbiter. That's likely one of the things the protesters would like to see change.
BURKINA FASO
More than 60 people have reportedly been killed since Sunday in communal violencein Burkina Faso's Soum and Boulgou provinces. A community religious leader and his family, seven people in all, were the first casualties and things appear to have deteriorated from there. Some of the killing may have been done by Islamist groups active in the area, but as you might imagine sometimes it can be difficult to tell where communal conflicts leave off and Islamist violence picks up.
EUROPE
BELARUS
European researcher Benno Zogg argues that despite the recent signs of tension in the Russia-Belarus relationship (mostly over Belarusian President Alexander Lukashenko's response to Russia's actions in Ukraine), there are limits to the degree to which Belarus and the West can reach some kind of accord with one another:
Despite the changed geopolitical situation and a general willingness to engage, distrust between the West and Belarus is still high and looks set to remain so. Belarusian rhetoric that goes unsubstantiated by policies continues to be just that: rhetoric. On the ground, little has changed in terms of civil liberties, human rights, economic reforms, or the level of state control and censorship. Belarus continues to apply capital punishment, which is a normative obstacle to European states. Belarus had made advances towards the West to increase its independence from Russia in the past, albeit more cautiously, but they have not led to political advances within the country. For example, despite reaching out to the West after the Georgian War in 2008, the regime cracked down on protests after fraudulent elections in 2010, and it inadequately adopted structural reforms as required by a loan the International Monetary Fund granted for 2009-2010. In more informal conversations with representatives of European governments and experts, I also sensed a lack of creativity and some indecisiveness about how to engage this authoritarian, bureaucratic state.

Ultimately, the very nature of the Belarusian regime is the main impediment preventing further integration and the building of trust. Hesitation is somewhat mutual: Lukashenko is more comfortable dealing with other autocratic leaders in the post-Soviet space. He is more familiar with realpolitik and murky deals than with the conditionality of democratic governments, including demands for greater transparency and respect for the rule of law and human rights.
POLAND
The European Commission (the European Union's executive office) is taking new steps to challenge recent changes to Poland's judiciary that it says threaten judicial independence in that country. In particular the EU is concerned about a "disciplinary chamber" created by the Polish government that is empowered to monitor and punish judges who stray from the government line. The Commission also warned the Romanian government over reports that it may once again act to decriminalize corruption, possibly by pardoning officials already convicted on corruption charges.
ALBANIA
Albanian opposition leaders held another in their weekly protests against the Albanian government on Wednesday. This week's demonstration appears to have been smaller and quieter than those in previous weeks. Albanians began holding anti-government protests in mid-February over allegations of high-level corruption and ties to organized crime.
UNITED KINGDOM
British Prime Minister Theresa May and Labour Party leader Jeremy Corbyn met on Wednesday to discuss a Brexit compromise that might be able to get through parliament. May's people reportedly called the discussion "constructive," but Corbyn seemed to sound a more pessimistic note, calling the session "inconclusive" and saying that May's Brexit position hasn't softened as much as he'd expected. Assuming May genuinely wants to reach an agreement with Corbyn and isn't using him as a bogeyman to scare hardline Conservatives into backing her Brexit plan—and so far there's no reason to believe May is sincere—she may need to show a bit more flexibility in her approach. The two made plans to continue talking, so that's something.
Complementing May's talks with Corbyn, parliament voted on Wednesday to order May to seek another delay to the Brexit deadline, which is currently April 12. The bill passed by a single vote, 313-312. May says she will ask for another short extension to give her time to see if she can reach a deal with Corbyn, but she might be facing a lot of pushback from the EU. European Commission President Jean-Claude Juncker on Wednesday strongly suggested that the EU will not consider another short extension beyond April 12 unless parliament passes a Brexit deal before then. If that's the EU's position it would leave May with two choices: crash out without a deal on April 12 or accept a long extension, perhaps to the end of the year or even beyond, that would oblige the UK to participate in this year's European parliamentary election.
AMERICAS
MEXICO
Mexican authorities appear to have started slow-rolling the provision of humanitarian visas to Central American migrants making their way north to the US border. This seems to be part of a low-key (so as not to appear like they're bending the knee to Donald Trump) effort to discourage these migrants from continuing on their way, with the Mexican government limiting the issuance of visas to the most vulnerable migrants and sending most of the rest back to Central America. The policy change has understandably caused frustration among the migrants, groups of which have clashed with authorities in a couple of Mexican towns over the past couple of days. Whether it has any impact on the number of asylum seekers hitting the US border obviously remains to be seen.